Vegas Mini Bin Rental Service
Vegas Mini Bin Rental Service
All bins are available for rent for up to 7 days.
(Used mainly for heavy materials such as rock, dirt, and concrete)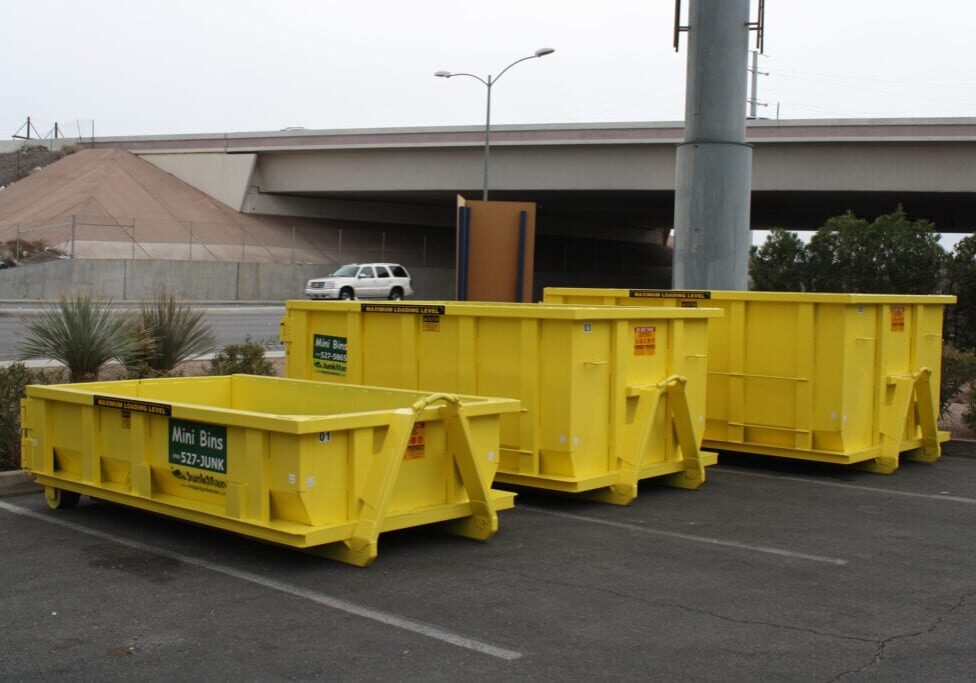 At JunkMan, we provide premier-quality mini bin rental services in Las Vegas. Our team is licensed and highly trained. As a locally owned business with nearly a decade of experience in the industry, we are the preferred choice. Mini bin rentals were a natural off-shoot of our core junk removal business. At JunkMan, we want to give folks the option to meet their junk removal and hauling needs. Some people would prefer that we do the work and only charge for the volume of items removed while others would prefer to fill their containers at their leisure with a dumpster rental in Las Vegas. All our mini dumpster rentals have a small footprint and are designed to be residential-friendly, from the size of the truck to the size of the bins. These roll-off dumpsters are the perfect choice for all your junk removal requirements. They can be placed either at the curb or in most Las Vegas sized driveways.
4 Yard
10' L x 6' W x 2' H –1 Week Rental
Remodel debris
Shingles
Heavy items – rock/dirt/concrete/pavers
Tile & Marble
10 yard
10' L x 7' W x 4' H –1 Week Rental
Remodel debris
Yard waste
Medium home cleanouts
Furniture
Appliances
Household debris
15 yard
11' L x 8' W x 4.5' H –1 Week Rental
Remodel debris
Yard waste
Large home cleanouts
Furniture
Appliances
Household debris